Guided reading involves a teacher working with a small group of students. This is an instructional approach where the teacher provides a text to 3-6 students. The text should be at a level right above that of which the child can read independently. The teacher should provide support and adequate coaching, teaching the readers to use problem-solving techniques and strategies while reading.
The Goal of Guided Reading
The goal of guided reading is to support the reader and lead him/her to a level in which he/she can soon the text independently. Once the child is assessed and is independent with fluency and comprehension, you will move them up a level to provide another challenge and goal.
The purpose of guided reading is to help students gain independence with reading. This involves helping them become adequate problem-solvers and holding them accountable for practicing strategies learned while reading their leveled texts. 
---
This post provides a general overview of guided reading for upper elementary classrooms.
Features of Guided Reading
Guided reading groups will typically include 3-6 students.
The session should last about 20 minutes.
Assessments should happen regularly to determine student progress and accurate reading level.
Children are grouped according to reading level.
Guided reading groups should remain flexible and fluid; groups should change according to student progress.
The guided reading text should be instructional. This means the text is challenging enough to provide "work" for the student but not so challenging that it causes intense frustration.
The teacher's job is to provide individual and group support while students are reading.
Components of Guided Reading
Essential components to support an effective guided reading lesson are below. Some elements may vary according to your groups. The teacher:
assesses students and forms flexible groups of 3-6 students
gives each student their own copy of the instructional leveled book
plans word work; this 2-3 minute warm-up can include introducing tricky vocabulary (definitions of words), word part skills/meaning (prefixes, suffixes, homophones), etc.
introduces the text while pointing out key features of structures and elements within the genre of text; activates prior knowledge; states teaching point
interacts with individual students as they read aloud; others may be whisper reading or reading silently
takes anecdotal notes and/or running records
discusses the text during and after reading
has students write about their reading
repeats the teaching point to close
Looks Like… Sounds like…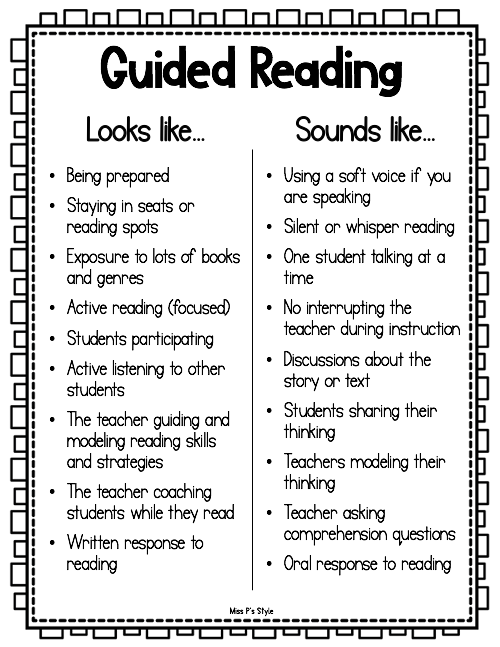 The role of each child in a guided reading group is to apply the focus strategy to the process of reading the entire text – not just a page. It is important to go over expectations repeatedly to ensure students know their job during the guided reading time. This is an expectation chart you can use as a guide with your students.
What About the Rest of the Class?
While the teacher works with a small group of readers, the other students will engage in independent reading and/or literacy activities that don't need direct teacher support. Independent Reading is a component of "Reader's Workshop". They learn how to work independently in order to not interrupt the Guided Reading group. Teachers need to establish these routines and have them running smoothly before beginning guided reading lessons.
This is a chart that you can use as a guide with your students to map out general responsibilities during independent reading.
This is a general overview of guided reading. It is such an important part of the reading block. Do you have questions about Guided Reading? Send me a message!