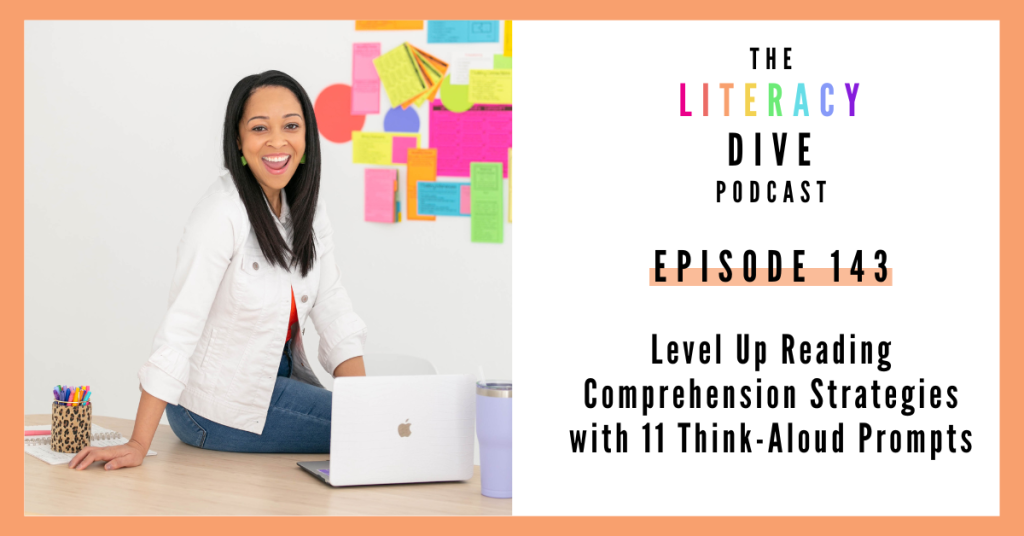 Listen to the full episode to hear how a think-aloud strategy improves reading comprehension:
Our goal as literacy teachers is to develop skilled readers and writers, so we often implement strategies that have students work on those skills. And while those strategies are effective and work, for our struggling readers, it may not be enough. Therefore, by incorporating a think-aloud strategy, your students will be able to hear and see how a skilled reader interprets a text. In this episode, I'm sharing 11 think-aloud prompts that will level up your students' reading comprehension.
Using a think-aloud strategy, teachers pause and share what they're thinking while reading a text, which can include prediction, analysis, synthesis, and more. We want students' internal processing to become automatic, which is why it's important to implement this strategy during times when it's natural to think critically about texts. During those times, I also discuss what you should model, how to incorporate this think-aloud strategy, and examples that demonstrate how to model it with your students.
Incorporating this think-aloud strategy effectively will require you to be aware of your own thought processes while reading and verbalize them in a way that is accessible to students. By pausing for intentional think-alouds, you can share your thoughts to help all readers think critically about a text and level up their reading comprehension.
In this episode on a think-aloud strategy, I share:
How sharing your internal process while reading helps students think critically about a text
2 places in your instructional day where you can implement a think-aloud strategy naturally
Skills you can demonstrate when incorporating a think-aloud
Ways this strategy can be adapted to different reading genres or reading levels
General tips for you when implementing this strategy with your students
Resources Mentioned:
Connect with Megan:
About The Literacy Dive Podcast:
Do you find yourself seeking new implementations when it comes to literacy instruction? Do you crave fresh ideas and engaging lessons to transform your students into skilled readers and writers? The Literacy Dive Podcast was created to provide educators, like you, with actionable steps and strategies to improve teaching reading and writing.
Your host, Megan Polk, is the creator and owner of The Literacy Dive, a company that creates educational, literacy curriculum that aims to close the gap and support children in reaching mastery. Being a literacy specialist and having over a decade of teaching grades K-5, Megan knows the power of collaboration and working alongside teachers and parents to provide them with the support, confidence, and resources they need to meet students where they are.
Dive in each Monday as Megan and her guests unpack an element of literacy or various topics relatable to educators. Here are some topics covered in this literacy podcast: writing strategies, reading comprehension, the writing process, the science of reading, and small group instruction.
Tune in on your favorite podcast platforms like Apple Podcasts, Spotify, Google Podcasts, Castbox, Amazon, and more!
If you enjoy this podcast and find the content helpful, please consider leaving a rating, feedback review, and/or sharing this podcast with a friend!