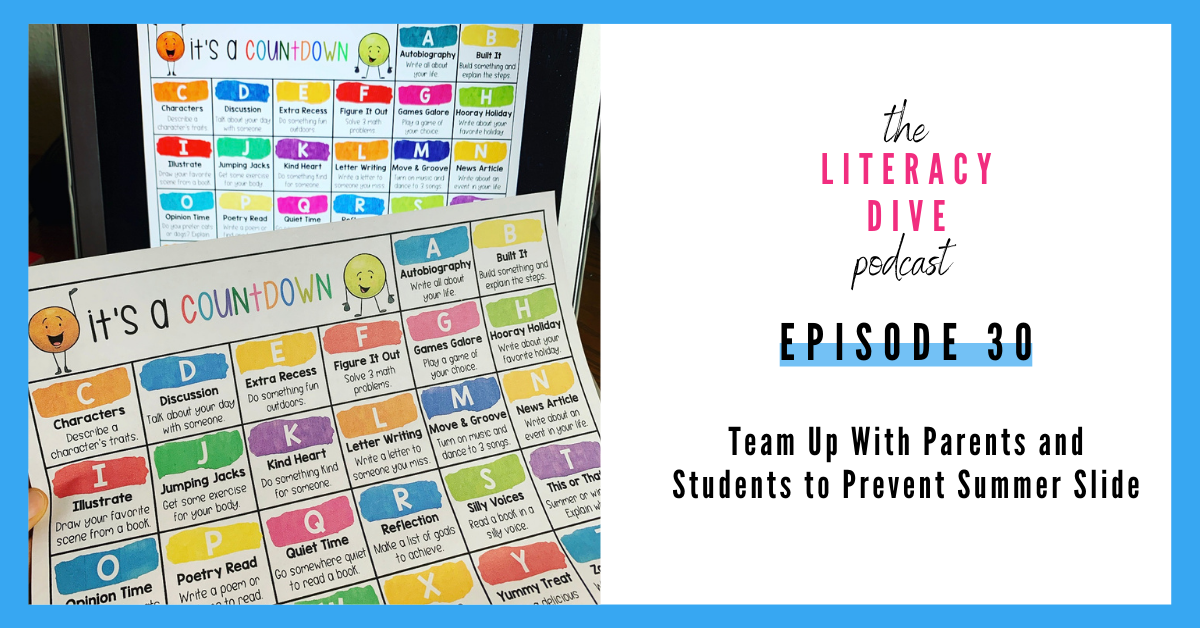 Teachers, you've almost made it. The end of the year is so close! In all the excitement of summer break, there's one thing that may cause some lingering concern. Summer slide. You and your students have worked so hard all year long and you know how important it is for them to continue practicing their skills over the summer. Doing so will set them up for success in the upcoming school year.
There are many thing you can do to ensure that parents are joining in and helping their child achieve their summer reading goals. Some key things to remember are to make it fun, let the parents know what you have planned, and celebrate what your student's are doing during their break! I'll show you how you can team up with your students and their parents before summer break even begins.
In this episode I share:
Benefits of having individual parent-teacher conferences at the end of the school year

How to continue school year routines over the summer at home

Ways to embed literacy practice in board games and other activities

The importance of discussing summer goals with your student
Resources mentioned in this episode:
Connect with Megan:
About The Literacy Dive Podcast:
Do you find yourself seeking new ideas when it comes to literacy instruction in elementary classrooms? The Literacy Dive Podcast was created to offer actionable steps and to share information for teachers, like you, who are always looking to improve their craft! ELA is our jam and we are excited to dive into all things reading and writing with you!
Your host, Megan Polk, is the creator and owner behind Miss P's Style. She is a literacy specialist and loves to support students and their teachers with curriculum, literacy instruction, best practices, and engaging literacy activities. Through this podcast, she will share literacy tips and strategies that she has learned from the many years of experience she holds from being an elementary teacher and literacy specialist. Megan has taught all elementary grades (K-5), but an intense passion and love for upper elementary came about!
Dive in with us every Monday for a new episode from Megan! She, and her guests, will chat about various literacy topics and will bring you tips and tricks that can easily be implemented in your classrooms… immediately!
You can tune in wherever you get your podcasts! Listen to The Literacy Dive Podcast on platforms like Apple, Spotify, Stitcher, Google, and more! If you find value from listening to this podcast, please rate this show, leave a review, and subscribe!