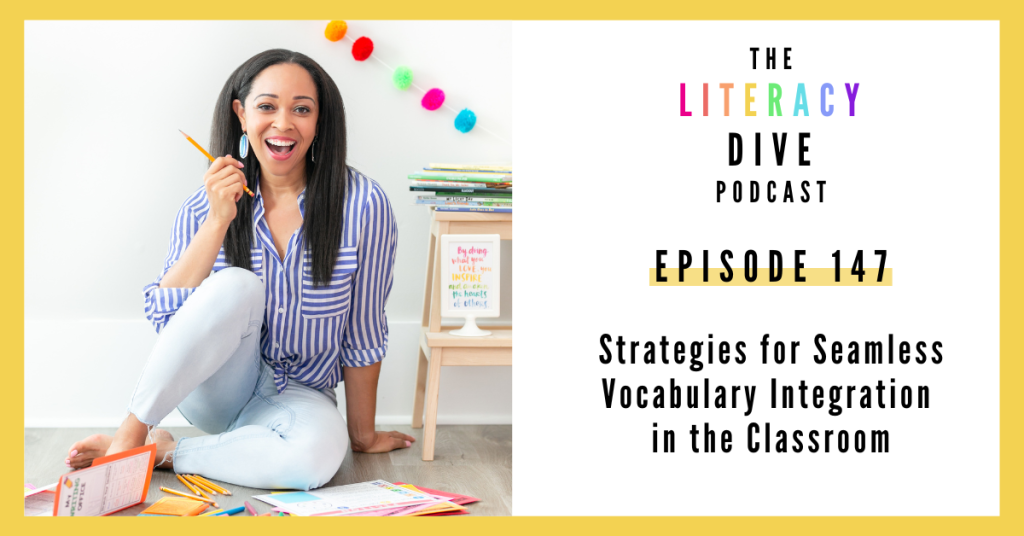 Listen to the full episode to hear ways you can integrate vocabulary strategies in your classroom:
Over the last few weeks, we've done a complete deep dive into vocabulary acquisition, its importance, and debunking common myths and misconceptions. Now that we covered the background information, in part three of this series, it's time to discuss practical vocabulary strategies. In today's episode, I'm sharing how to seamlessly integrate vocabulary strategies in your classroom and already existing daily curriculum.
In order for information to permanently stick in a person's brain, they need multiple exposures and interactions. So the more we integrate vocabulary strategies throughout our day and through cross-curricular, the deeper their understanding and meaning of words will be. Throughout the episode, I share copious amounts of vocabulary strategies that range from games, visuals, technology, and thematic or content related ways to naturally incorporate vocabulary.
Deepening vocabulary acquisition is not a one size fits all approach, which is why finding ways to make connections with words is so critical. When you can start to integrate vocabulary strategies seamlessly in your classroom, your students will be able to interact and use words organically in their writing and daily discussions. Stay tuned to next week's episode, which is our last in the series!
In this episode on how to integrate vocabulary strategies, I share:
Strategies that help guide students in solid vocabulary acquisition
Ways vocabulary strategies can be playful, along with examples of vocabulary games
Why making vocabulary visible is a reminder for students to use throughout the day
How to use vocabulary in thematic units and cross-curricular context
Resources Mentioned:
Connect with Megan:
About The Literacy Dive Podcast:
Do you find yourself seeking new implementations when it comes to literacy instruction? Do you crave fresh ideas and engaging lessons to transform your students into skilled readers and writers? The Literacy Dive Podcast was created to provide educators, like you, with actionable steps and strategies to improve teaching reading and writing.
Your host, Megan Polk, is the creator and owner of The Literacy Dive, a company that creates educational, literacy curriculum that aims to close the gap and support children in reaching mastery. Being a literacy specialist and having over a decade of teaching grades K-5, Megan knows the power of collaboration and working alongside teachers and parents to provide them with the support, confidence, and resources they need to meet students where they are.
Dive in each Monday as Megan and her guests unpack an element of literacy or various topics relatable to educators. Here are some topics covered in this literacy podcast: writing strategies, reading comprehension, the writing process, the science of reading, and small group instruction.
Tune in on your favorite podcast platforms like Apple Podcasts, Spotify, Google Podcasts, Castbox, Amazon, and more!
If you enjoy this podcast and find the content helpful, please consider leaving a rating, feedback review, and/or sharing this podcast with a friend!